Fly Peak Trail #337
Important Note
Because this trail goes up and over a peak, its average slope is misleading. Refer to the elevation gain/loss and segment-level slope for a more accurate indication of its steepness.
Maps, signs and other references to Fly Peak and its associated trail may use "Fly's Peak" or "Flys Peak".
Current Trail Conditions
As of April 2018, this trail has been cleared from Fly Saddle over the top to Round Park by a volunteer trail crew, but it passes through a burn area with standing dead, so more deadfall can be counted on over time.
Length: 1.1 mi
Difficulty: moderate
Condition: good
Elevation range: 9045 ft – 9665 ft
Elevation gain/loss: 520 ft ↑ / 335 ft ↓
Access
The Fly Peak Trail is accessible from two locations.
The northern terminus begins at Fly Saddle, (31.87965, -109.28665) a five-way junction along the Crest Trail which is also the southern terminus of the Long Park Trail and the western terminus of the Centella Trail. This junction is marked with two signs, one of them a very distinctive sign pointing in many directions.
The southern terminus is on the west side of Round Park, accessible via the Crest Trail. From the junction, (31.86874, -109.28502) it takes off almost due north through Round Park, but is not marked with a sign until the trail exits the meadow after approximately 150 feet. (31.86120, -109.28493) This junction should not be confused with the Bear Wallow Trail junction, which heads northeast out of Round Park along its eastern edge, and is similarly unmarked until it exits the meadow.
History
Fly Peak, and nearby points with similar names, are named after C. S. Fly, a photographer who documented many historic events in the greater area and lived for a time in Fly Park to the north in the late 1800s. He served as Sheriff of Cochise County from 1895 to 1897.
Trail Description
Fly Saddle to Fly Peak
0.7 mi
520 ft ↑
14.1% slope
The Fly Peak Trail departs the junction at Fly Saddle, heading southeast and immediately beginning to climb. After 250 feet, the trail angles south-southwest, (31.87914, -109.28612) where it begins to climb through a stand of small aspen for nearly 500 feet. From here on, especially during and after monsoon season, the trail can often get quite overgrown with aspen saplings, raspberries and grass, but it is usually possible to find your way through as long as you don't miss a turn.
Exiting the aspen, the trail curves east (31.87794, -109.28680) and skirts the line between the southern edge of a patch of living conifers and an exposed, burned patch. Over the next 450 feet, it swings back southeast, never quite entering the shade of the trees, before making a sharp turn to the southwest—a turn which can be easy to miss at times if the grass is tall and the aspen are all leafed out. (31.87735, -109.28565) 275 feet beyond, the trail describes a wide U, then swings east-southeast and shortly after enters into the first real conifer stand up to this point, heading towards the last switchback of the ascent 500 feet beyond. (31.87594, -109.28413)
From here, it's a gradually curving quarter mile of generally much easier to see trail. You'll briefly exit the shade into another aspen-filled burned patch, but then it's back under pines as you slowly angle towards the southeast and climb towards the peak, which is accessed by a spur trail from an unsigned junction. (31.87292, -109.28446) To reach the peak, take the left fork and continue 500 feet to the top. (31.87296, -109.28380) To continue down the south side of Fly Peak towards Round Park, take the right fork.
Fly Peak to Round Park
0.4 mi
335 ft ↓
15.9% slope
The trail begins to descend immediately and enters the heavily burned southwestern face of Fly Peak, occasionally dipping in and out of tree cover after the first of five switchbacks occurs 500 feet later. (31.87120, -109.28322) Despite the more intense fire damage on this side, the trail is at much less risk of getting overgrown and is generally very easy to follow. The fifth switchback occurs 0.13 mile after the first, (31.87012, -109.28390) and then it's downhill to the southwest for nearly 450 feet before curving to the south (31.86940, -109.28499) towards the northwestern edge of Round Park, where the Fly Peak Trail sign can be seen. (31.86912, -109.28493) The trail is often quite grassy in this last stretch and so is somewhat faint—although the final 150 feet to the Crest Trail (31.86874, -109.28502) have recently been redefined and are again easy to follow.
If you want to make a loop from here, you have two main options: you can take the Crest Trail north-northwest 0.86 mile to get back to Fly Saddle where the trail started, or you can take the Bear Wallow Trail from the east side of Round Park 0.81 mile north to Centella Junction, and then take the Centella Trail northwest ¾ mile to reach Fly Saddle via a longer route around the east side of the peak.
Map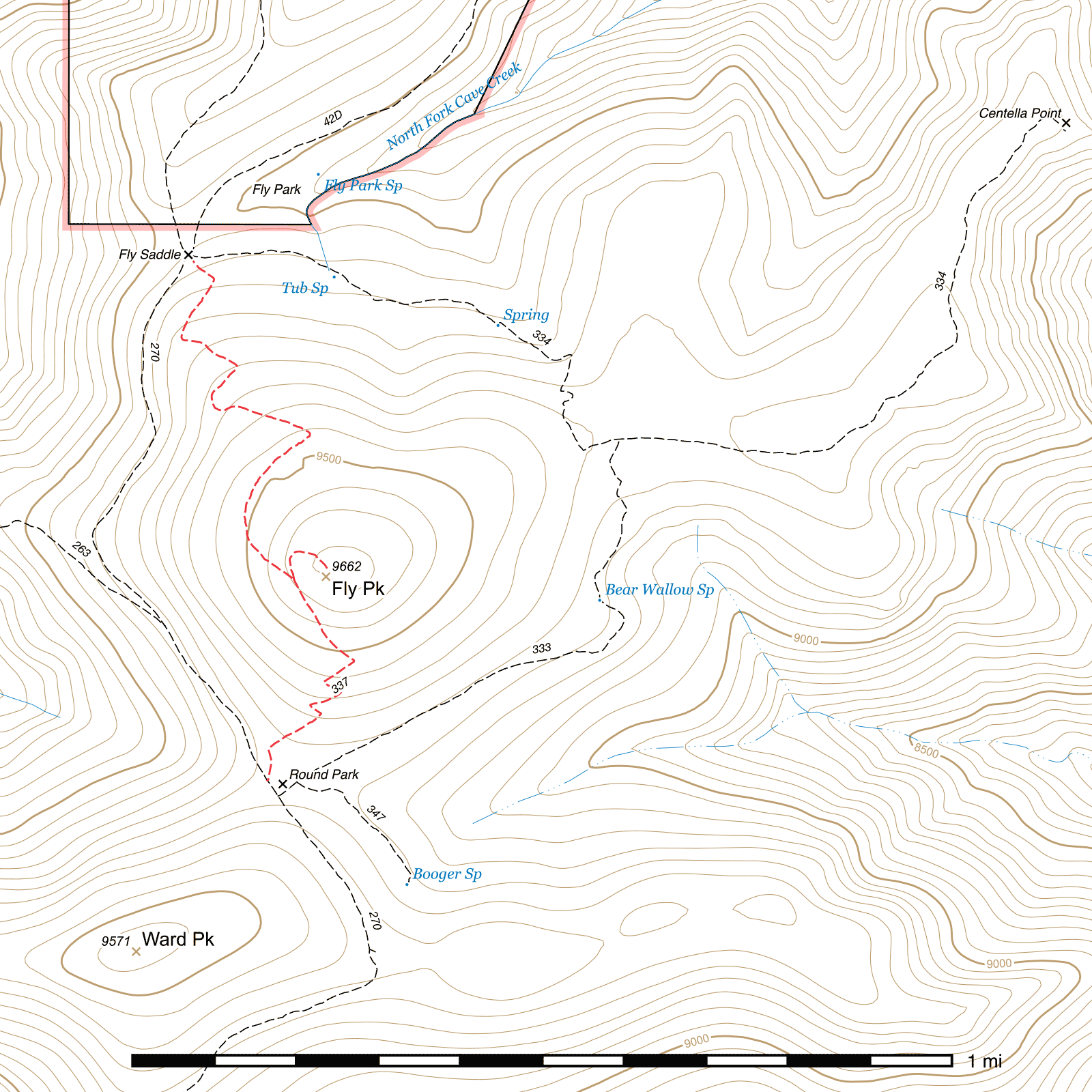 Last updated April 26, 2018.